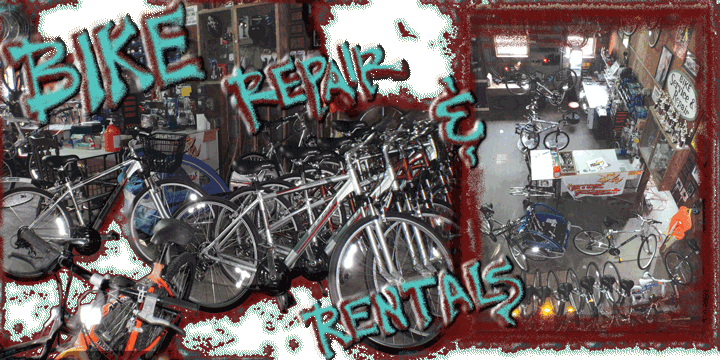 Beyond Boundaries is at the Midpoint of the Wisconsin 400 state Bike Trail!!
The "400" State Bike Trail is just the beginning of a 101 mile system of bike trails
that leads from Reedsburg, Wisconsin all the way up to Marshland near the Minnesota border.
Wonewoc is the "Midpoint of the 400 Trail" located within the surroundings of sandstone bluffs, wetlands, and rolling croplands in the "driftless area" of Wisconsin.
The 101 miles of trails was once home to the Chicago Northwestern Railway and makes for a low grade and relaxing ride.

Beyond Boundaries is located right on the 400 State Bike Trail, easily accessible for needed bike repairs or bike rentals. We carry Fuji Crosstown 3.0 Bicycles for rentals, with a variety of sizes for both men and women. We also have options for kids to join in on the fun with smaller bikes, a trail-a-bike, or a kid cart.We also have a NEW BIKE SALES SHOWROOM with a variety of new bikes for sale!

Trail passes are required on the trails for every bicyclist 16 years and older and are available at our shop.

Click on the links below for detailed information on Beyond Boundaries bike rentals, bike repair, and combination paddling and biking trips.

Click Here for Bike Rental Information

Beyond Boundaries Bike Repair Information

Paddling & Biking Combo Trips by Beyond Boundaries

101 Miles of Trail Map

400 State Trail Map

Fuji Bikes Website




New high quality Fuji Bikes for Sale NOW!!!!!

Hours of Operation Memorial Day Weekend until Labor Day (Limited Hours Outside of the Season-Call Us):

Fridays &amp Saturdays
9:00 am - 5:00 pm--Last Departure 4:30pm

Sundays
10:00am-2:00pm--Rentals can be Returned After Hours

Mondays &amp Tuesdays
CLOSED-Limited Advanced Appointments Possible for Groups

Wednesdays &amp Thursdays
OPEN BY ADVANCE APPOINTMENTS/RESERVATIONS ONLY from 10:00am - 4:00pm

**SHOP IS OPEN TO WALK-IN PUBLIC ONLY FRIDAY through SUNDAYS. Open by Advanced Appointment Outside Regular Hours.
**Adventures may last past our store hours with Advanced Communication with Staff.
**Visit our Facebook Page!!


Beyond Boundaries LLC
113 Center Street
Wonewoc, WI 53968
608-Go4Ride
(608) 464-7433
Copyright 2021-2025 Beyond Boundaries LLC